1.Chicken Tikka Masala with Cumin scented Green Pea Pulao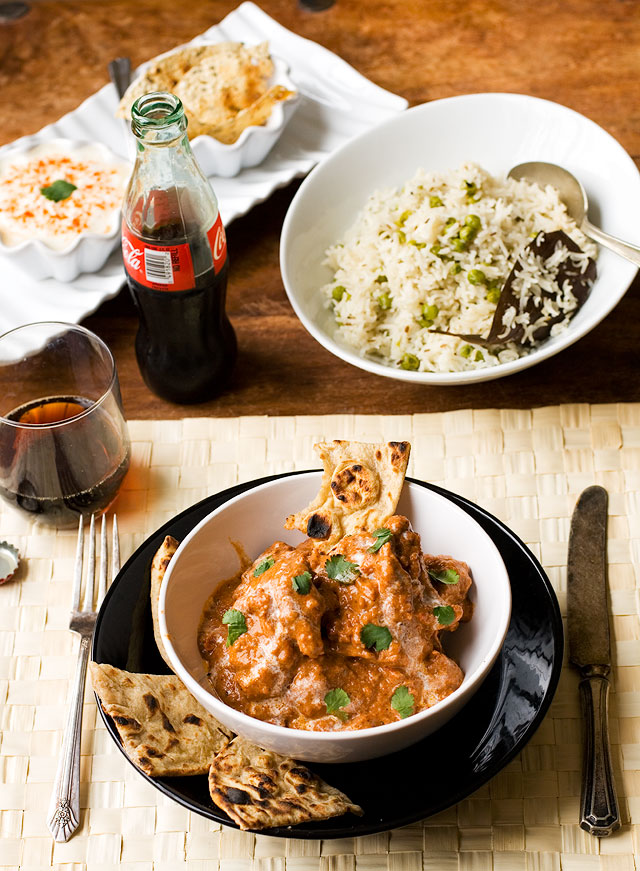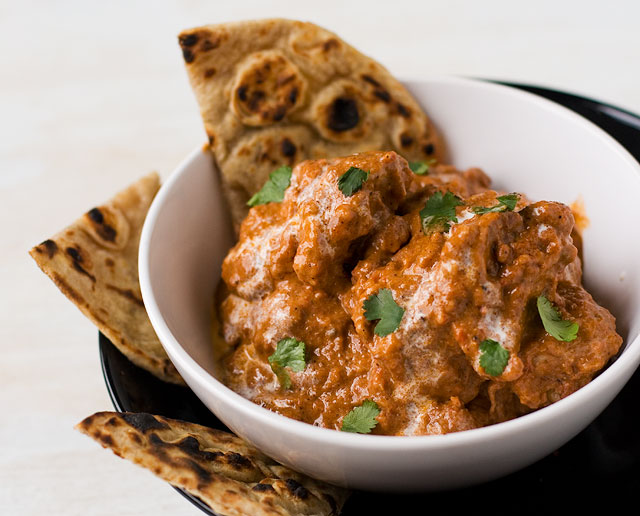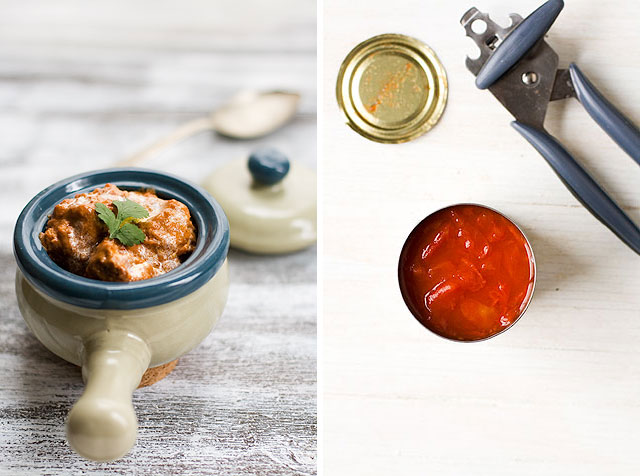 I made a "not so traditional" version of Chicken Tikka Masala. But then again I am not sure if there is anything that qualifies as a "traditional Indian tikka masala". In fact, Chicken Tikka Masala was not even born in India. Rumor has it that years back in the 1960s, a British gentleman stepped into an Indian restaurant and returned his order of chicken tikka complaining that it was undercooked. Tired of his customer's rants, the chef opened a can of tomato soup, threw in some cream and
cooked the tikka in the sauce. Ironically, the dish became so popular in England that in 2001, it was declared as England's national dish. Some Indian critics claim that it was born in the early 1500s when Babar, a Mughal emperor sick of choking on the bones of his Tandoori chicken asked his Punjabi cooks to remove all the bones. Cooks terrified of the angry emperor chopped off all the bones before throwing the chicken into the tandoor (clay oven). They cooked the chicken in spices and served it to the emperor.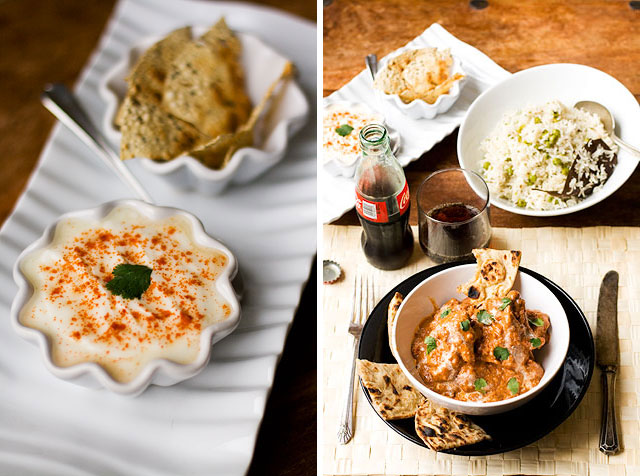 Whatever be the story, I know that it is one of the most popular Indian dishes and the kind of Chicken Tikka Masala a restaurant serves determines the quality of a restaurant . Its my all time favorite dish but needs a little more of love and patience that I can give to my food right now. So I made Chicken Tikka Masala instead and served it with some roti and Cumin scented Green Pea ulao. This is a quicker and simpler version from someone Indian food lover and I have a feeling that you are going to like it!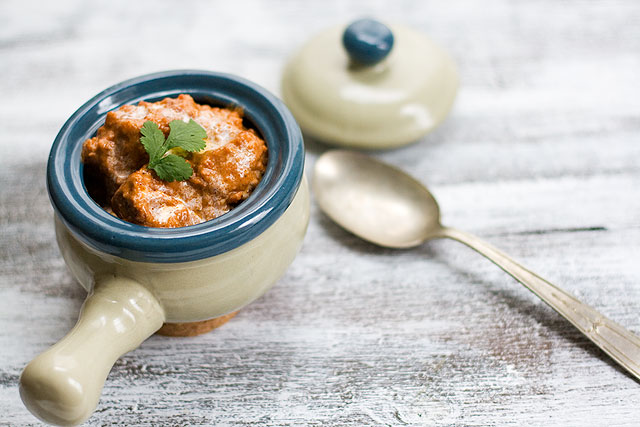 Ingredients:
For Chicken Tikka:
4 boneless skinless chicken thighs (cut into cubes)
1 tsp Kashmiri red pepper powder (This is a red pepper which is not very hot
but gives a beautiful color. But you can also use cayenne pepper if you can't
find it)
1 1/2 tsp ginger garlic paste
1 1/2 tsp coriander powder
1 tsp garam masala
1/2 cup yogurt (any fat % is fine)
1 1/2 tsp lemon juice
1/2 tsp red food color (optional)
Salt
For the tomato sauce:
1 14.5 oz can of diced tomatoes (pureed)
1 tbsp garlic paste (I prefer fresh but you can use store bought too)
1 tbsp ginger paste
1 tbsp onion powder (optional)
1 tbsp coriander powder
1 1/2 tsp powdered black pepper
1 tsp garam masala
1 tsp powdered fennel seeds
1/2 cup heavy cream
1 1/2 tbsp olive oil
1 tsp chopped cilantro (for garnish)
Salt
Method:
For Chicken Tikka:
Mix all the dry ingredients into the mixture of yogurt and lemon juice to prepare a marinade. Add chicken pieces into the marinade. Mix everything well. Cover the bowl and let it sit in the refrigerator for at
least an hour. I did it overnight. Thread the chicken pieces onto the skewers. Grill the skewered chicken until done or pop it into the oven for 15-20 minutes at a temperature of 400 deg. F.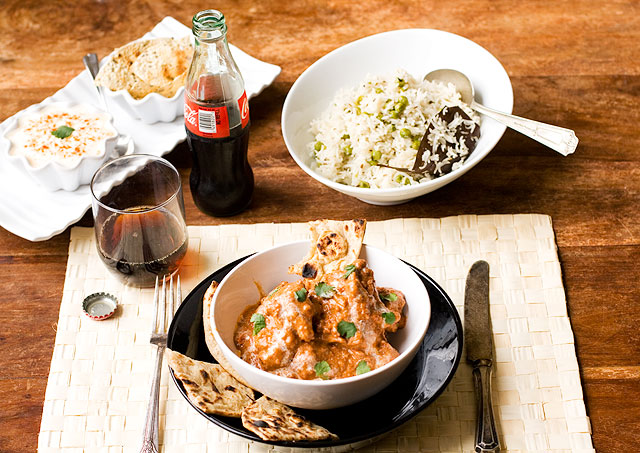 For the Masala:
Pour oil in a thick bottom pan. Add ginger garlic paste.Turn on the heat and let the paste slowly cook as the oil heats up. This perfumes the oil and also your house! When the oil is hot, add onion, coriander, fennel, black pepper powder and garam masala. Mix it all together. Add tomato puree and mix it very well with all the spices. Let it simmer for about 15 minutes until the sauce starts reducing and the excess water evaporates. Stir occasionally scraping the bottom. Add cooked chicken pieces along with the drippings if cooked in an oven and cream. Mix it all together and let it simmer for another 5-7 minutes.
Turn off the heat, cover with a lid and let it sit for at least 10 minutes before serving. My mom always says that letting the Indian curry sit for a few minutes before serving helps all the spices do wonders!
Garnish with some chopped cilantro and serve with naan, roti, or Rice Pulao .For Cumin Scented Green Pea Pulao: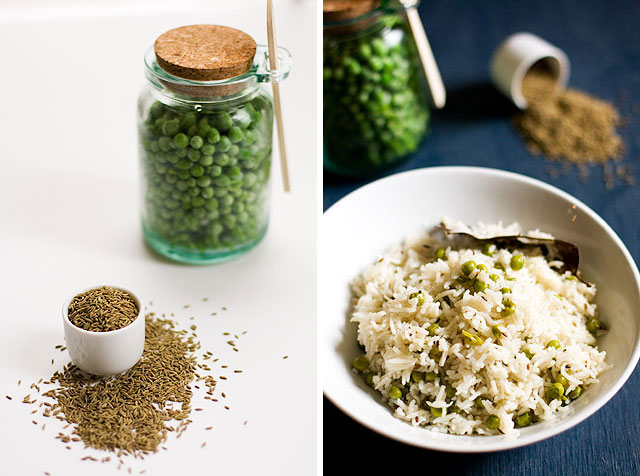 Ingredients:
1 tbsp clarified butter or ghee (You can also use olive oil)
1 bay leaf
1 1/2 tsp cumin seeds
1/2 cup green peas (I used frozen sweet peas)
1 1/4 cup basmati rice
Salt
Method:
Wash rice thoroughly with water. Set aside. Heat oil in a saucepan. Throw in bay leaf and cumin seeds and cook until they start popping. Add green peas. Cook for a minute.Add rice and salt. Mix everything and then add 2 1/2 cups of water (the rule of thumb for cooking basmati rice is to add water a little over twice the quantity of rice, I added a half cup extra). Bring the rice to a nice boil and then turn the heat to medium, cover the saucepan with a lid and cook until all the water is absorbed. Turn off the heat and let it rest covered for 10 minutes.

2. Chicken Roganjosh with Cumin & Cinnamon scented rice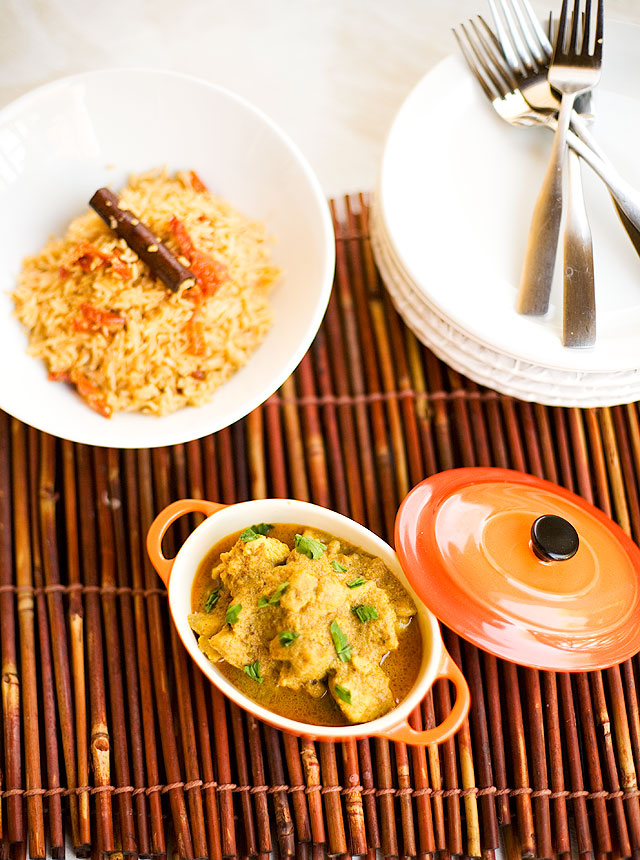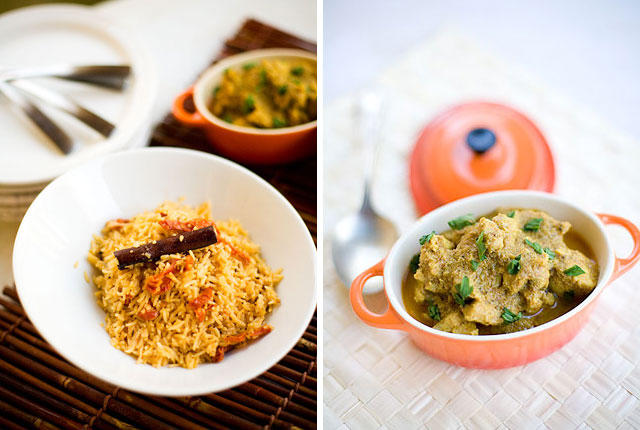 Hopefully today's recipe will help you come out of Grilled chicken coma. I'm sharing a recipe for Chicken Roganjosh with some Cumin and Cinnamon scented rice cooked with sundried tomatoes .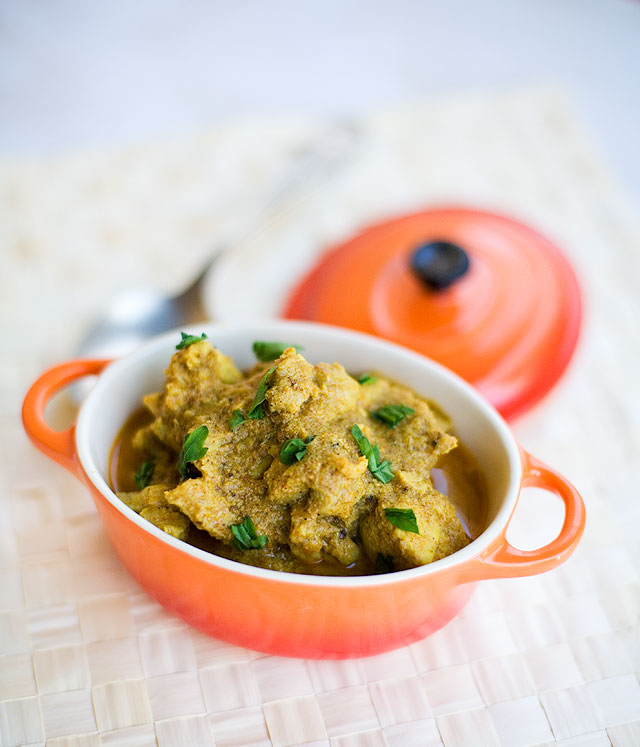 Many of you must have heard of a Roganjosh. It's one of the most popular Indian curries and comes from the north most state of India, Kashmir. It was primarily brought to India by Mughals but later adopted by Kasmiri pandits. The authentic Roganjosh is made with no onions and garlic because back then pandits won't eat the two and the gravy is cooked in creamy yogurt with a mixture of several spices. The main spice used in the recipe is Kashmiri Mirch or red pepper from Kashmir. They are not very hot but give this vibrant red color to the dish. You can make it with any kind of meat but most commonly used is lamb or mutton. I usually cook chicken. And again I made my roganjosh with both onion and garlic since I don't have a religious restriction and at the same time that helped make the gravy thicker.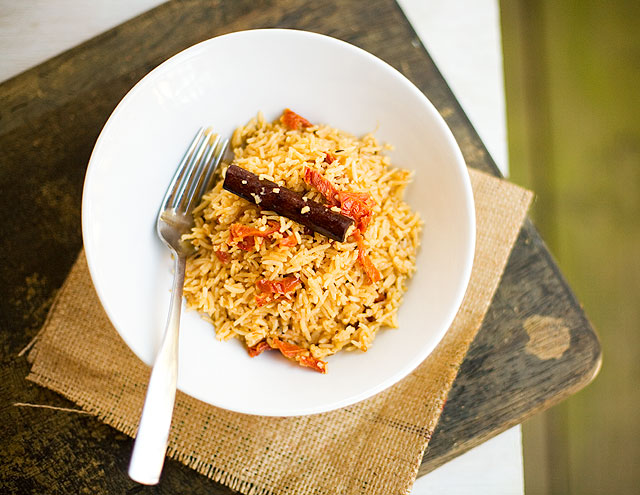 served my Chicken Roganjosh with some Cinnamon and Cumin scented ricethat I cooked in clarified butter and later added some sundried tomatoes to it. That gave my rice a touch of tanginess with some mild fragrance of spices and that paired really well with the creamy yogurt curry of roganjosh. Let's come to the recipe now.
Ingredients: Chicken roganjosh
1 pound boneless chicken cut into 1-2 inch thickness (I used both thighs and breasts)
1 cup whole fat yogurt (You can use low fat yogurt too if you want but I just wanted a creamy rich sauce)
3 tbsp ginger garlic paste
1 cup onion paste
1 tbsp Kashmiri red pepper powder (You can find it in any Indian/International store. But If you still can't find it, just use 1/2 tbsp red pepper powder)
1 tsp turmeric
1 tsp fennel seeds
2-3 cloves
1 tsp cinnamon powder
1 tsp cumin seeds
a pinch of asefetida
1 tsp Madras curry (Or you can even use garam masala)
2 tbsp oil + 1 tbsp clarified butter
salt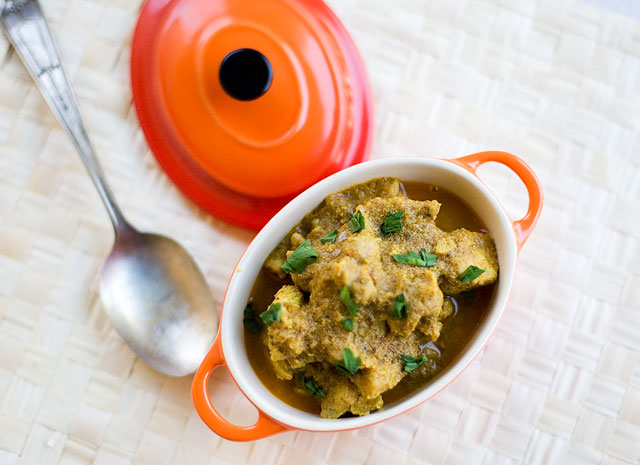 Method:
In a bowl mix yogurt, salt, Kashmiri red pepper powder and ginger garlic paste. Add chicken. Mix everything well and set it aside for half an hour. Heat oil in a thick bottom pan. Add onion paste and cook it until it turns color to golden brown. Turn heat to medium low. Now add all the spices except the curry powder. Mix it all together. Add the chicken. Stirring it every couple minutes, let the chicken cook slowly without covering it. Slow cooking is the key when it comes to making a nice and rich curry.
When you feel that the chicken is almost done (which should take anywhere around 20 minutes), add the madras curry powder (or garam masala). Cook until done.Note:- This dish has a thick gravy but if you want the curry to be thinner, feel free to add a little water before adding the curry powder and give it a nice boil.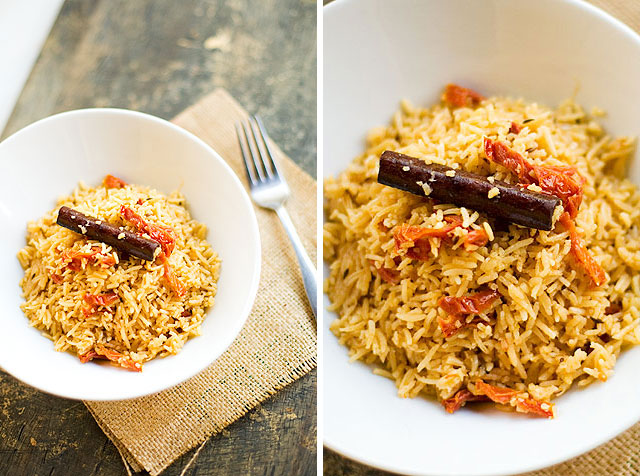 Ingredients: Tomato rice
1 1/2 cups of basmati rice
1/2 cup sundried tomatoes
1 tsp cumin seeds
2 sticks of cinnamon
1 tbsp olive oil + 1 tsp butter
Salt
Method:
Wash rice in water thoroughly. Soak them in water and set aside. Place pan on the burner, turn on the heat and add oil and butter together. Let the slowly heating pan melt the butter. Now add cumin seeds and cinnamon sticks. Once the cumin seeds start popping, add the tomatoes. Mix it all together and add drained rice. Keep it stirring. You will hear a popping sound when all the excess water from the rice is gone. Now add salt. Add about 3 cups of water. Bring it to a nice boil, then turn the heat to medium, cover the lid and let the rice simmer and cook.

3. Chicken Curry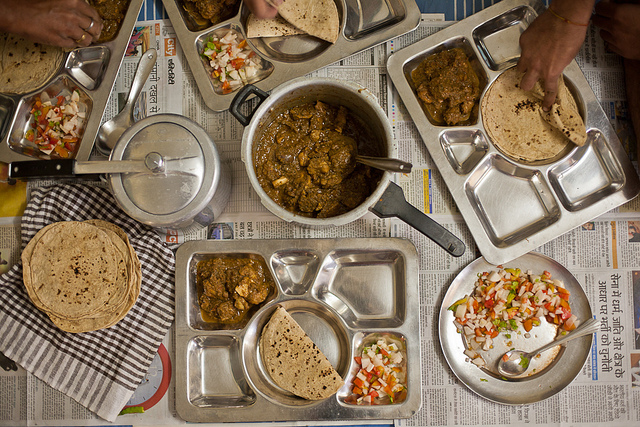 Sunday in my child hood used to be a chicken curry day! At home meat from thehaat would be washed, twice. It took my mother at least two hours to make that chicken curry. The process would start with onion, ginger, garlic paste prepared using a stone grinder. Whole spices ground along until everything turns into a smooth paste. Then her loyal pressure cooker would be pulled out, which by the way was used just on Sundays, just for the chicken curry. The process would begin and the aroma of masala floating would get strong and stronger.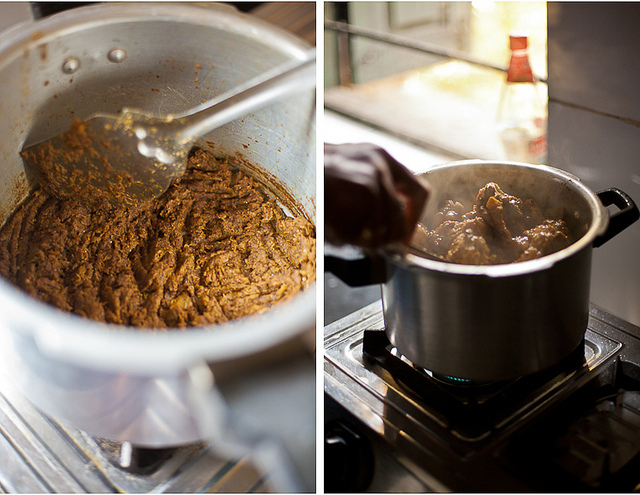 Two hours later lunch would be served. There would just be chicken curry, steaming hot rotis and a simple salad on the side. But that is still and will ever be the best meal one could ever serve to me. So today I could not think of a better recipe . Photos here might not be the best
ones, but they carry boatloads of memories of famous home made Chicken Curry.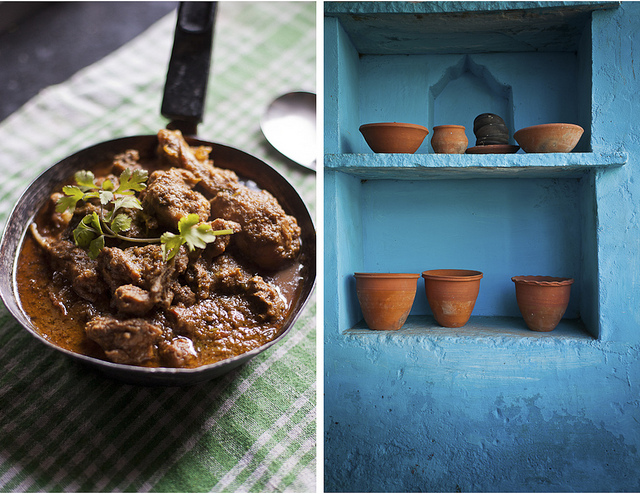 Ingredients:
2 1/2 pounds whole chicken (cleaned and cut into 16- 18 pieces)
1 1/2 cups chopped onion
3-4 cloves of garlic
2 inches ginger root
2-3 hot green chili peppers (adjust according to how much heat you can handle)
1 1/2 cups chopped tomatoes
1/4 cup lemon juice + 1/2 teaspoon salt +1/2 teaspoon cracked pepper (marinade)
2-3 bay leaves (dried)
1 1/2 cinnamon stick
3-4 whole black cardamom
1 teaspoon cumin seeds
5-6 cloves
2 1/2 tablespoon coriander powder
1/2 teaspoon turmeric
1 1/2 teaspoon garam masala powder
1/2 cup mustard oil (can substitute with vegetable or olive oil)
1 1/2 tablespoon ghee (clarified butter)
Salt to taste
Handful of chopped cilatro
Method:
Mix the marinade (lemon juice + salt + pepper) well to washed chicken. Set aside for 30 minutes.
In the meantime grind onion, ginger, garlic and green chili into a thick paste.Set aside.
Heat oil in a thick bottom pan with slightly higher sides. A pressure cooker or wok would be a great alternative. Roughly pound the whole spices – bay leaves, cinnamon stick, black cardamom, cumin and cloves. Add to the hot oil. Stir as they sputter. Add turmeric. Stir and add the onion paste prepared before. Turn the heat to medium and cook while stirring occasionally until all the liquid has evaporated and the paste is reduced to a dense, golden brown paste. Add salt, coriander powder and chopped tomato. Turn the heat to medium high and cook, stirring occasionally. Slowly the tomato will begin to melt and then it will all turn into a slightly smooth and loose paste. Wait till oil begins to separate. Add garam masala, stir in the chicken and mix everything very well. Reduce the heat to medium low. Cover and cook, uncovering and stirring occasionally. Initially chicken will lose a lot of water but after cooking for 15-20 minutes on medium heat the water will begin reducing. At this point you can either uncover and cook, stirring occasionally or put on the pressure cooker.
If proceeding with the pressure cooker then cover, lock and wait for two whistles and then turn the heat off leaving covered for another 15 minutes. If you prefer the slow cooking so turn the heat to medium low and let the hicken simmer for another 20-25 minutes until the chicken is cooked well and the gravy is reduced to a nice thick consistency. Once the chicken is cooked add ghee and cilatro. Stir well. Cover and let it rest for 15 more minutes before serving with your choice of bread or rice.