Yesterday for a meetup with a Latin American friend of mine with whom have been postponing now for quite some time,we chose to have Indian lunch and met at my favourite Indian Jewel Restaurent in the old town of Prague.
Now what i love about Indian Jewel is its so centrally located position right next to the famous Astromical Clock in Old town and the Charles Bridge ,that meeting with friends and for meetings it just becomes feasible for everyone.Just out side the Restaurent you can see their huge Summer Terrace which is just mindblowing  with the amount of people that can lunch/dine there at a time.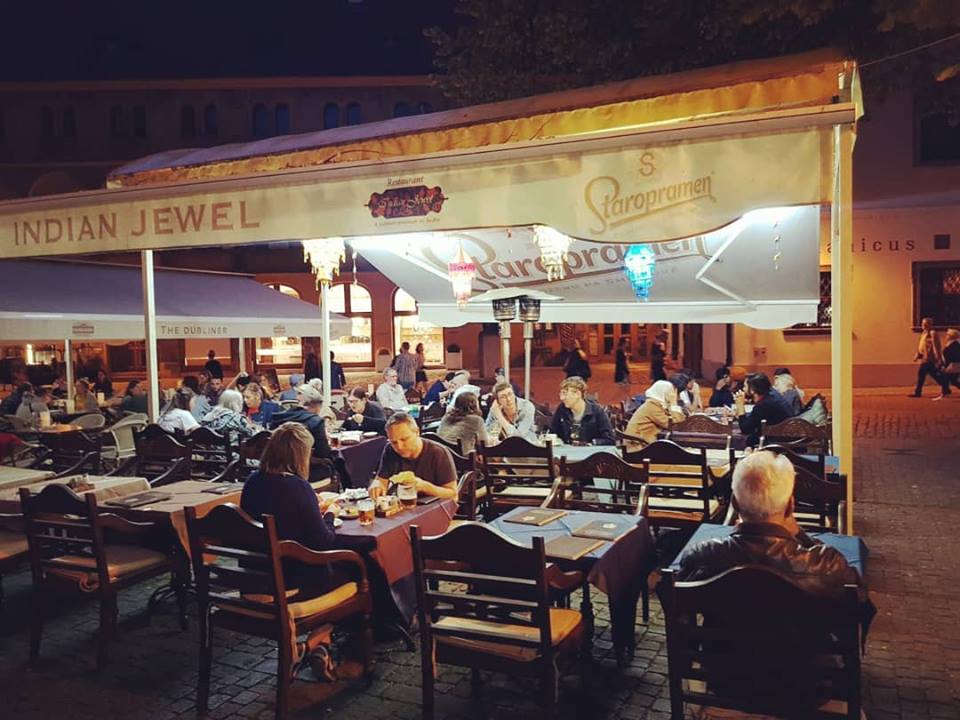 The adjacent Summer Terrace is from an Irish Pub where you can see people drinkng and enjoying beers and converging to the Yummy Indian Food at Indian Jewel subsequently.
My wife who decided to join me as well for the lunch was so thrilled to see this convergence of taste from beer to the mouthwatering Indian food ….
Since the weather was getting little chilly so we decided to sit inside the restaurent (love the interiors of this place). We were greated with the usual smile of waiter  for which i love this place asking for the order to pen down duly in to his order book in hand.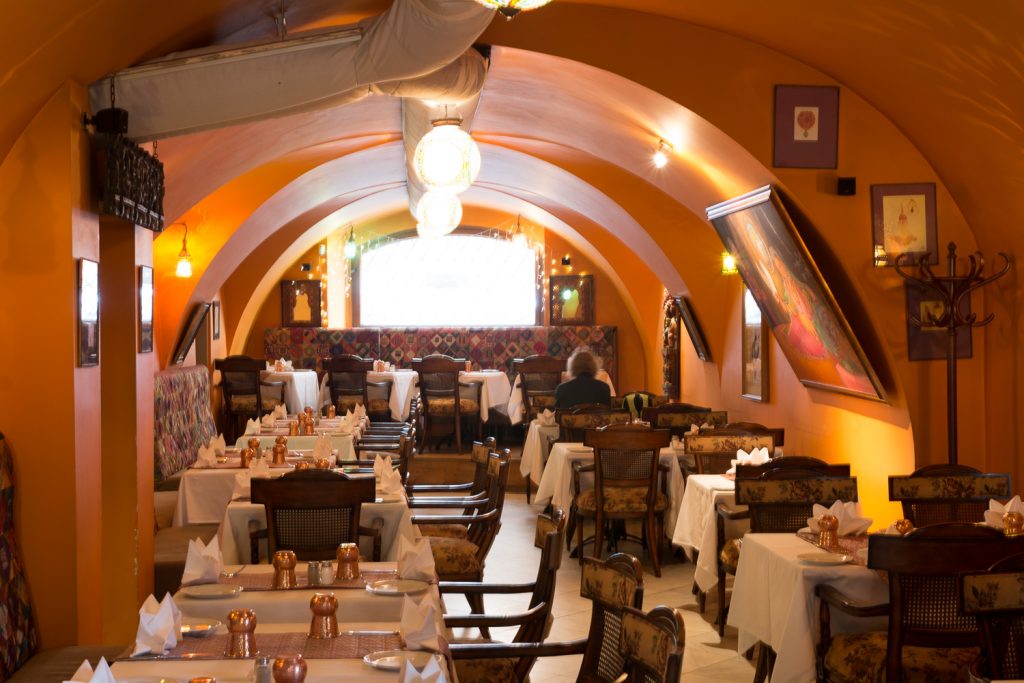 We were gently told that today being a holiday they do not serve lunch menus as such but only "A la carte".My friend since a lamblover chose to taste the medium spiced Rogan josh with some Garlic Naan,I ordered for myself  Chicken Tikka Masala (obviously hot spicy as i love it) and my wife ordered for Hot Dal Makhani( her favourite) duly served in small bucket along with some Garlic Nan as well.
We ordered for some thick and creamy Raita as a side dish to keep the check on the spicy affects of the food  for every one:) and plate of  vegetable Salad which was served in a huge plate to us. Since i am a big rice lover ordered for a fluffy plate of hot  Basmati rice which looked so  attractive on the table all the time we enjoyed our meal.
We talked about Indian food,Indian culture,Latin America and the Spanish restaurents in Prague and life and business and all that was so pending to be talked about in our minds:)
The yummy Rogan josh ,spicy chicken tikka Masala ,thick condensed  Raita  and the yummy full of butter Dal Makhani gently melting in our mouths and while we laughed and enjoyed our chatting and i could see the empty hall to which we had entered into was now slowly getting filled up.
On looking around i was so surprised to see that the more than half of the place was full with Indian tourists who were lavishly enjoying every bit of the yummy food here.
2 hours almost flew by as we  chatted and enjoyed our meal.It was by now that i could feel and see that we all have had our fill of the lunch and its time for those yummy Indian sweets:))))))
I and my friend we ordered for hot Gulab Jamun and my wife chose to try the thick Rice Kheer what they had on board.
We enjoyed every bit of our food here  and the time so well spent with the restaurent almost full by now as we were leaving.
The serving staff so pleasent and smiling that it just elevated the apetite for the guests i presume…..
We agreed on our return to this place next month again for a yummy Indian meal after we try some spanish food at a place of choice of my friend coming week:)
For me,The Indian Jewel remains a feather in the cap for the Indian food in Prague with its original indigenous and authentic way of cooking and serving the true Indian food in the heart of Prague………
Enjoy your meals and lots of love to you all…