Last  Saturday ,got a call from of friend of mine who happens to have a meat business and caters to few local Restuarents for their meat supplies.
He allured me buy  a fresh Lamb meat from him ,igniting me to go in for the cooking of Hyderabadi Biryani at home.The idea appealed to me as i have been promising and delaying for long my neighbours for quite long now cooking and sharing some traditional Indian  mouthwatering  Lamb dish.
I went on a quick trip to Shalamar foods for some quick buy of  Basmati rice,Meat Biryani  Masala along with  the other ingredients needed for the Biryani cooking experiment at home.By evening i had all the stock of the needed ingredients in place for the cooking on Sunday:)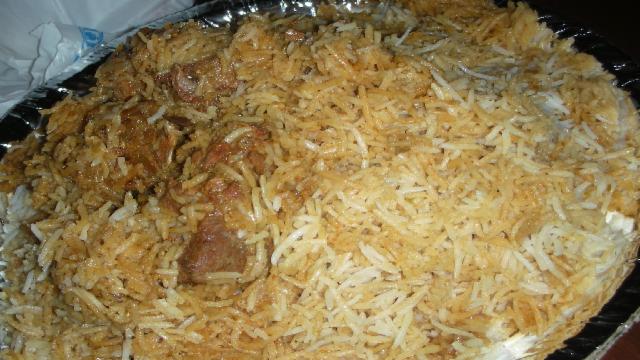 The fundamental contribution came in from my wife,who happens to be on sick leave these days at home,agreed to chop up basic vegetables needed for the  5 kgs of lamb  meat i had bought for the Biryani.
So by early afternoon ,i had everything set up for the Yummy Hyderabadi Biryani cooking.It took me about 4 hours of time to finally come up with the yummy aroma in our house of the mouthwatering Biryani at last.
Immediate, after the yummy dish was  ready to go,it took not much of time to reach for all  our neighbours (3 families of them) enjoy the every bit of the tasty dish and listen to collection of some good Hindi songs (They all love hindi music)
A cold plate of tasty Rasgulla was an  extra to add on to the adventurous yummy evening.
The full recipe for the Hyderabadi meat Biryani,shall be putting up in the recipes soon
Down below is the glimpse of the homemade delicates.
Enjoy your meals!!!!!!!