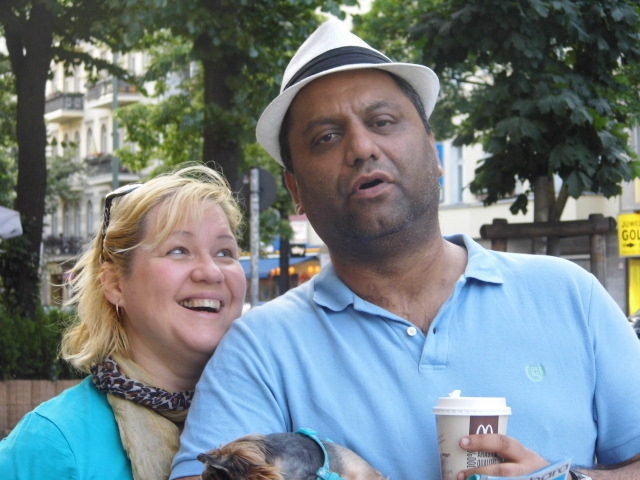 Born and brought up in Delhi, India, I have been an NRI (Non Resident Indian) now for more than 20 years having experience of living in more than 1 country. . I live in Prague. And I cook a mean Indian meal (according to my friends and family).
All this while working as an entrepreneur , being married with a growing daughter and generally having a full life.
Why another Indian cooking website?
I'd never cooked anything until I would not been living out of India on my own. When I finally took the plunge, I found many authentic, healthy, quick and simple Indian dishes that I could fit among client deadlines, late nights partying, family dos and general craziness.
I started this blog in September 2013 because I got sick of seeing how much people loved Indian food and how little they actually cooked it.
My mantra is this: You don't have to slave over a hot cooker all day to cook a healthy and authentic Indian meal. This blog is my way to spread the love for Indian cooking to all those who wrongly think it's too difficult, time consuming or greasy.
Is it working?
Yes, indeed. Bored of being lectured by sari-clad aunties, there is clearly a new breed of time-starved lovelies (myself included) who would rather eat their shoe than make a samosa from scratch. I have around ever increasing unique visitors every month from around the world, and that number's growing fast.

Okay, how to get started?
At the very heart of Indian cooking is the frying of masalas or spices. The wet masalas are the onion, ginger and garlic and the dry ones are the powders. What gives the curries their taste is the combination and type of spices used. So two dishes use the same spices, but taste different. The secret is in the combinations.
There are really no hard and fast rules on these combinations. If you ask a seasoned Indian cook about his/her recipe you will get a bizarre response something to the tune of: Add a bit of ginger/garlic, some turmeric and chilli, and finish off with a little garam masala. This is because many of us rely on andaaz or approximations and therefore, the same dish will often vary from household to household with each family having its own take on a classic.
Creating the dishes is not an exact science but there are some basics to remember. When you first fry the masalas, there is a pungent smell. As you stir, this sharp aroma goes away and you get a more subtle, blended whiff of masalas. You know your masala mix is cooked when the smell changes and when, on a slow simmer, the oil in the mixture starts oozing out of little pores and the sides of the dish. It's all about the timing.
Here are a few do's and don'ts before you get started:
Do
Make a list of masalas from recipes you like and buy them at a ethnic shop or online. It's much cheaper than getting them at supermarkets. They last ages and you can freeze curry leaves
Use non-stick pots and pans to cut down on stirring time
Think ahead. Curry tastes much better eaten the next day and if you're making the effort, you might as well cook extra for another meal
Don't
Cook Indian food with olive oil. It has too much flavour and does not fry the masalas as effectively as sunflower oil
Replace ingredients unless you know exactly what you're doing. Dals or lentils especially have different cooking times
Leave your pot unattended and wander about. The quickest way to get masalas cooked is to whack the flame on high and stir like a maniac to ensure the masalas cook quickly and don't burn. Be in a rush to leave the house after cooking. Your home will smell and so will you. Factor in the time needed to ventilate your home, shower and change before you head off.
So invite your friends round, make that masala shopping trip and get chopping. Once you get started there'll be no stopping you and that's a promise!